Annapurna Region
Monsoon Season Trekking in Nepal (10 days program)
6-days customized Nirvana Trek to Jomsom/Muktinath
Nepal has some of the best parts that the best time to visit for your holiday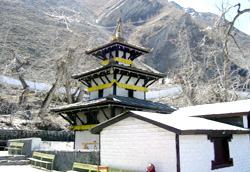 there in rainy days or can be also trekked all the year round. Where you can see and experience similar to Tibetan plateau and also is well known Trans Himalayan region of the county's Mustang district, the life style of people, local cultural activities, old monasteries and its amazing landscape add to your journey's best photographic opportunity destination. In Nepal's behind of the mountain the region is also called cold desert and Tibetan influence parts. The main occupation of the region is farming- sheep & goat keeping, horse keeping, tourism hospitality and traditional barter system of salt trading in Tibet.
The high plain region is also ideal for slow trekkers and trekking with children and family on horse back together you will have closer stunning views of the snow clad peaks. The months of the year June, July and August are mainly people consider as monsoon days in Nepal but the Trans Himalayan parts are just opposite of your belief and it is total rain shadow parts. On that time there is the best time for harvest
and different horticulture season so you can have lots of fresh fruits like apples, peaches, apricots, plum, walnuts and organic vegetables grown in local farm.
Itinerary
Day 01: Arrival in Kathmandu, pick up from the airport and transfer to hotel, rest and refresh for couple of hour and complete the official formalities.
Day 02: Fly (30 min.) or drive by tourist bus (6-7 hr.) to Pokhara and transfer to hotel and free time for personal activities to explore its attractions of around.
Day 03: Fly to Jomsom (2700m), STOL flight over the World's deepest gorge in between Annapurna I (8091m) and Dhaulagiri (8167m) mountains, commence trek to Kagbeni (2800m, 3 hr.) and O/N at teahouse/lodge.
Day 04: Trek to Muktinath (3800m, 5 - 6 hr). Muktinath is consider as a holy pilgrimage site for both Hindus and Buddhists shrine. The lord Shiva had meditated there and had nirvana according Hindus mythological scripts. So since now and then many devotees have dream to visit that salvation center in there life time once. Moreover the holy place offers you wonderful views of entire Annapurna Himalayan range and giant Dhaulagiri panorama.
Day 05: Explore around the Muktinath pilgramage site and enjoy panoramic views of snow clad mountains.
Day 06: Trek back to Jomsom and after lunch visit around and rest in Hotel/lodge with amazing closer views of Mt Nilgiri and Tilicho peak.
Day 07: Early morning after breakfast visit further down another beautiful Trans Himalayn Village Marpha which is famous for best apple farming in Nepal and back to Jomsom O/N in Jomsom.
Day 08: Early morning fly to Pokhara, pick up from airport and transfer to hotel. Afternoon free for personal activities.
Day 09: Free day in Pokhara for personal activities like sightseeing boating on Fewa Lake, shopping etc...
Day 10: Continue your own activities or transfer to Pokhara airport to fly to Kathmandu or drive by tourist bus (6-7 hr.) or by car 5 hours to Kathmandu (200 km). Tansfer tother Hotel.
Day 11: International departure or go for onward program.
The above Package includes the following services:
- Airport transfers - pick up and drop
- 3 meal per day and overnight accommodation in Hotel/lodges along the trail
- Supporting staffs (trekking guide and porters), as well as their necessary insurance fee, meals and allowances
- Annapurna Conservation Area Project entrance permit fee (ACAP fee)
- TIMS (Trekkers Information Management System) pass
- Hote accommodation according to the above paln in Kathmandu and Pokhara.
- Domestic airfare (Kathmandu-Pokhara-Kathmadu) and (Pokhara-Jomsom-Pokhara)
The above Package does not include:
- Travel/medical insurance and emergency evacuation cost
- Personal expenses such as telephone calls, alcoholic beverages, bottle drinks, donation, tips etc...