Kanchenjunga

Kanchenjunga Trek (19 days)
Trip Difficulty: Grade 5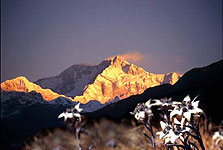 Kanchanjungha, the third highest peak in the world lies on the eastern border of Nepal with India. On this trekking you will experience remoteness of country, romantic mountain views, diverse flora and fauna and rich local culture.

Your trekking preparation:
This trek is considered as technical trek and suitable for thoes who moderately fit and have a sense of adventure. The program is designed to acclimatize you gradually and not to experience high altitude sickness. However you are requested to check your altitude fitness and the itinerary.
We suggest you to strengthen your knee muscles and prepare for several days of steep descents.

Please note that the following program is prepared in the fact basis however can be change in some circumstances but adjustments will have to made during the trekking. We request you to be flexible with the situation to enjoy yourself.

As the trek is designed for camping arrangement, everything is handled by our team of porters, sherpas and cooks who carry the equipment, set up the camp and have hot meals waiting for you at every food break.

Click here for optional Kanchenjunga Trek Itinerary

Day to Day itinerary:

Day 01 Fly from Kathmandu to Biratnagar and overnight at hotel.

Day 02 Fly from Biratnagar to Taplejung and camp at Lali Kharka- 2180m (4 hr)

Day 03 Trek to Khesewa-1750m (6-7 hr)

Day 04 Trek to Amphuding-1635m (7 hr)

Day 05 Trek to Amji Khola-2300m (6 hr)

Day 06 Trek to Simbuwa Khola-2990m (6-7 hr)

Day 07 Trek to Tseram-3860m (5-6 hr)

Day 08 Trek to Romze-4440m (5-6 hr)

Day 09 Excursion to Yalung-Ri-5200m and return to Tseram (7-8 hr)

Day 10 Trek to Loshe Tham-3260m (7-8 hr)

Day 11 Trek to Helok Gaon-2040m (8-9 hr)

Day 12 Trek to Chiruwa-1200m (5-6 hr)

Day 13 Trek to Dobhan-640m (5-6 hr)

Day 14 Trek to Gorja-2080m (5-6 hr)

Day 15 Trek to Gupha Pokhari-2950m (7 hr)

Day 16 Trek to Chauki-2710m (7 hr)

Day 17 Trek to Basantapur-2300m (7 hr)

Day 18 Drive from Basantapur to Biratnagar and O/N at hotel.

Day 19 Fly from Biratnagar to Kathmandu and stay in hotel

Or Continue Rafting to Chatara from Dovan on Tamur River - 4 days rafting trip From day 14
(Ideal for combined with your Kanchanjunga trekking)

For Cost details of above package, Please contact us.

The above Package includes the following services:

- Airport transfers
- Land transfer end of the trekking (Basantapur - Biratnagar) by private bus
- 3-meals per day prepared by our experienced cook
- Camping gear (two-person tents, foam mattress, kitchen tent, dining tent and toilet tent)
- Supporting field staff including professional trekking guide, cook, kitchen boy, porters as well as their necessary insurance, meals and allowances
- Domestic airfare (Kathmandu - Biratnagar - Taplejung and Biratnagar - Kathmandu)
- Trekking permit and Kanchanjunga Conservation Area entrance fee

The above Package does not include:

- Meals and accommodation in Kathmandu (If you want us to book your hotel before and after the trekking, you are we are ready to book your hotel as per your interest and suggestion.
- Personal equipment sleeping bag, Down jacket, waterproof jacket, kit bag etc. (you can rent them in Kathmandu at a cost of US$ 1 per item for day)
- Kathmandu airport departure tax
- Travel / medical insurance and emergency evacuation cost
- Personal expenses such as laundry, telephone calls, alcoholic beverages, bottled drinks (including cold drinks and mineral water), tips etc.