Langtang Region
Sightseeing Tours, Langtang-Gosainkunda-Helambu Trekking, Trishuli River Rafting and Chitwan National Park Tour (21 days)
Itinerary: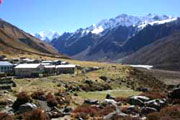 Day 01. Pick up from the airport and transfer to the hotel
Day 02. Sightseeing tour:
Full day Kathmandu valley sightseeing (Kathmandu Durbar Square, Swayambhunath stupa, Boudhanath stupa and Pashupatinath famous Hindu temple).
Day 03. Drive to Syabru Besi -1400m. (175 Km, 7 hrs drive by [rivate Jeep transport) and O/N at guesthouse:
In a short drive you will be out of Kathmandu and you will enjoy beautiful countryside scenery. Lunch will be served about the half way of Journey.
Day 04. Syabru Besi to Lama Hotel - 2410m. (6 hr) and O/N at guesthouse:
Trekking starts at 7am morning after breakfast. Your trekking route will be alongside Langtang river passing green jungle, small water falls. Lunch will be served in Bamboo. At the end of trekking you have short climb.
Day 05. Lama Hotel to Langtang village - 3300m (6-7 hr) and O/N at guesthouse:
Trekking starts at 7am after breakfast. This day begins with a gentle climb but it soon becomes steeper. You will enjoy breathtaking view of Ghenge Lirung mountain (6561m), passing throw green jungle of Rhododendron (our National flower), Oak and maples. You will have lunch in Thangshyap.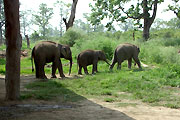 Day 06. Langtang village to Kyanjin Gompa - 3750m (3 hr approx.) and O/N at guesthouse:
Trekking starts around 8 am after breakfast. You will find yourself in different surroundings with more mountain views and less vegetation from here. You will have clear views of Langtang Lirung -7225m and its glacier and Kimshung - 6781m. You can also visit Gompa and cheese factory.
Day 07. Rest day in Kyanjin Gompa O/N at guesthouse:
There are 2 good viewpoints. Interested people can climb Kyanjin Ri (4773m) or Tsergori-5000m.
Day 08. Kyanjin Gompa to Lama Hotel (7 hours):
Trekking starts around 7 am after breakfast. You pass through small villages of Tamang people whose religious practices and language are very similar to Tibetan. Also, visit Gompa of Langtang village.
Day 09. Lama Hotel to Thulo Syabru - 2210m (5-6 hr) and O/N at guesthouse:
Trekking starts around 8 am after breakfast. While going down you will see huge waterfalls. You will have lunch in Bamboo. Syabru is very beautiful Tamang majority village with good views of Ganesh Himal and Tibetan mountains.
Day 10. Thulo Syabru to Laurebinayak - 3900m (6-7 hr) and O/N at guesthouse:
Trekking starts around 7 am after breakfast. This day starts with a gentle climb passing some small village, forests of hemlock and oak. Sing Gompa is lunch place with little sightseeing of Cheese factory before taking up hill to Laurebinayak. It offers Annapurna, Manasalu, Ganesh, Langtang Lirung and Tibetan unnamed mountains.
Day 11. Laurebinayak to GosainKunda - 4350m (about 3 hr) and O/N at guesthouse:
Trekking starts around 8 am after breakfast. Gosainkunda lake is a holy place for both Hindus and Buddhist people. According to legend God Shiva has created this high altitude lake. The Lake has a black rock in the middle, said to be head of God Shiva. Lots of people come here to worship and bathe during the full moon festival each August. It said that there are 108 holy kundas (small lakes) around, like Saraswati Kunda, Surya Kunda, Bhairav Kunda, Ganesh Kunda, Parvati Kunda and more….
Day 12. GosainKunda to Tharepati- 3510m, crossing over Laurebina la pass-4610m
(7-8 hrs) and O/N at guesthouse:
Long day. Trekking starts around 7 am after breakfast High pass Laurebina La (4610m) from here you can have good views in both directions and start to descent rocky way down to Phedi. From Phedi you walk through green vegetation that makes you pleasant journey after rocky path.
Day 13. Tharepati to Thimbu - 1580m (6-7hr) O/N at guesthouse:
Trekking starts around 7 am after breakfast. If clear day you can see Mt. Dorje Lakpa, Shisha Pangma, peaks from Tharepati. You lose altitude very quickly passing through oaks, Gnarled Rhododendrons forest to Malemchigaon where you stop for lunch break.
Day 14. Thimbu to Talamarang - 960m (4-5 hr) and O/N at guesthouse:
Trekking starts around 8 am after breakfast. You walk passing many beautiful traditional villages. Where you can have a look at village life style and people dedicating in their daily activities….
Day 15. Privet jeep or bus to Kathmandu (5-6 hr) and O/N in Hotel
After breakfast around 8 am drive back to Kathmandu a part rough road. Lunch in Dhulikhel hill about an hour before Kathmandu.
Day 16. Rafting on Trishuli River:
Drive to Trishuli River Raftin gput in point (Charaundi) Rafting for 3 hours over night camp on bank of Trisuli river.
Before you go on the water Raft guide talk about river, team work, safety etc..
Day 17. Rafting on Trishuli River and O/N at Chitwan National Park:
After breakfast rafting for about 3 to 4 hours, lunch at take out point. After lunch transfer to Chitwan National Park (approx 1 hour drive). Once you are in National park you can do easy activities like visiting traditional Tharu villages, Walk for sun set view next to Rapti river etc…
Day 18. Chitwan National Park:
Full day activities in national park (elephant ride inside the national park, canoeing, jungle walk, visit elephant breeding center and cultural dance at the evening)
Day 19. Chitwan National Park and Kathmandu (Approx. 6 hour drive):
Early morning bird watching and after breakfast drive to Kathmandu by tourist bus, transfer to hotel.
Day 20. Sightseeing:
Sightseeing tours in Bhaktapur one of the oldest traditional cities of Kathmandu valley. and continue drive to Nagarkot (2100m), overnight in the hotel in Nagarkot (wonderful sun set view over the Himalayas in the evening).
Day 21. Last day of Trip:
Early morning Sun rise over the Himalayas and not to miss amazing views. After breakfast drive to Kathmandu, shopping and transfer to the airport. OR go for onward program.
For Cost details of above package,
Please contact us.
The above Trip plan includes the following services:
- Airport transfers - Pick up and drop
- Hotel Accommodation in Kathmandu
- Langtang National Park entry permit fee
- TIMS (Trekkers Information Management System) pass
- Privet transport for all the trips like trekking, rafting and city sightseeing tours
- 3 meals per day and overnight accommodation in Hotel/lodges during the trekking trip
- City tour guide, Trekking guide and porters their insurance fee and daily allowences
- A 2-day rafting trip on the Trisuli River including: 3-meals per day, Full rafting gear (life vests, helmets, lightweight plastic paddles, camera box and wet suit for winter season rafting);
- Camping gear (two-person tents, mattress, kitchen tent and toilet tent)
- supporting field staff and professional rafting guides and safety kayakers
- A 2-night stay in Chitwan National Park including all program activities, accommodation, 3-meals per day and all park entry permits.
The above Trip does NOT Include:
- Travel/medical insurance and emergency evacuation cost
- Personal expenses such as laundry, telephone calls, alcoholic beverages, donation, tips etc..
- Entrance fee during the sightseeing in the monastery, temples, Durbar square and city hall etc…
Sightseeing tours:
Nepal offers the highest mountains in the world, a cultural heritage that is among the richest in Asia. Nepal will enrapture you with its natural and cultural diversity. Nestled in the middle hills of Nepal, the Valley of Kathmandu is a wealth of medieval art and architecture. Its profusion of Hindu pagoda temples, grand Buddhist stupas and artistic palace squares has been honored as World Heritage Sites. They provide the setting for a vibrant culture marked by deep religious devotion.
Trishuli Rafting:
The scenery on the river includes small gorges and a glimpse of the cable car leading to the famous Manakamana temple. This rafting provides good opportunity to enjoy the native wildlife. The Trishuli is an excellent river for rafting those who are looking for a short river trip with some of the challenging rapids, beautiful scenery and a relatively peaceful environment. Rafting on Trishuli River is on the way to Chitwan National Park and Pokhara. Good combination of rafting with jounrey to Nationalpark and Pokhara (Annapurna Trekking)
Chitwan National Park:
Chitwan National Park is located in the southern Terai belt of Nepal. This is one of the most famous parks in Asia for its flora and fauna. It's home for one horned rhinoceros, monkeys, crocodiles, deer and if luck you'll catch a rare glimpse of the Royal Bengal tiger or leopard. Beside that, beautiful butterflies and over 500 different species of colorful rear birds. You'll enjoy Nepalese folk dances and music, Tharu dances and songs.