ManasluTrek
Manaslu Trek (14 days)
Trip Difficulty:
Grade 4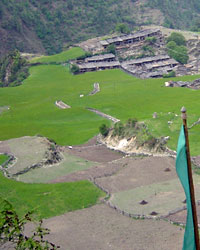 Trekking around Manaslu offers an unique opportunity to experience relatively "untouched" region of Nepal. Opened for trekking only in 1991, it provides spectacular beauty along the border of Nepal and Tibet/China and is now a controlled trekking route which requires special permits to organize trekking groups to venture round its spectacular circuit. It is located in west central part of Nepal. Fantastic mountain scenery, spanning altitudes from 575 m to 5100 meter Dramatic Larkya La (pass) this is one of the friendly pass of Nepal.
The standard 15 to 16 days hike begins from Arughat small town of Gorkha district Trekking of Manaslu round goes through two National park of Nepal (Starts from Manaslu Conservation area and end other side at Annapurna Conservation Area. A diverse range of ecosystems and ethnic cultures, and a trail that puts closer to Tibet than any other trek in Nepal.
Your trekking preparation:
This trek is considered as medium hard trek and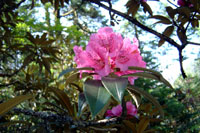 suitable for average people. If you are moderately fit and have a sense of adventure you will enjoy this trek. The program is designed to acclimatize you gradually and not to experience high altitude sickness. However you are requested to check your altitude fitness and the itinerary.
Please note that the following program is prepared in the fact basis however can be change in some circumstances but adjustments will have to made during the trekking. We request you to be flexible with the situation to enjoy yourself.
As the trek is designed for camping arrangement, everything is handled by our team of porters, sherpas, cooks and guide who carry the equipment, set up the camp and have hot meals waiting for you at every food break.
Trek itinerary:
Day 01: Drive Kathmandu to Arughat trekking starting point. O/N camping
Day 02: Trekking to Soti Khola. O/N camping
Day 03: Trekking to Khola Bensi. O/N camping
Day 04: Trekking to Jagat. O/N camping
Day 05: Trekking to Daring. O/N camping
Day 06: Trekking to Gap. O/N camping
Day 07: Trekking to Lho. O/N camping
Day 08: Trekking to Samdo. O/N camping
Day 09: Trekking to Dharamasala. O/N camping
Day 10: Trekking to Bhimthang passing Larkya Pass at 5100m. O/N camping
Day 11: Trek to Tilge. O/N camping
Day 12: Trek to Jagat. O/N camping
Day 13: Trek to Bulbule. O/N camping
Day 14: Drive to Kathmandu. Drive takes around 7 hours
For Cost details of above package,
Please contact us
.
* If you are individual traveller don't worry please contact us We can bring you into contact with other people who would be interested to do the same type of trek.