Mustang Trek
Mustang "The Ancient Kingdom" Trek
Trip Difficulty:
Grade 3

A vast expanse of rock; wilderness of huge proportions, Mustang opened only for selected organized groups since 1992. Mustang offers a truly exceptional opportunity to explore an area rich in ancient tradition and mythology. An almost treeless, barren landscape with a countryside similar to Tibetan plateau. In lower Mustang the hills tend to be great, red fluted cliffs, while upper Mustang offers an endless expanse of yellow and gray rolling hills, eroded the wind, which is prevalent in this area. The people here are Tibetan in origin and their way of life and spoken language reflect this ancestral lineage. The trek takes you to the walled town of Lo-Manthang, a visually extraordinary place, home of the present Mustang's King and full of beautiful temples and Gompa.
Pictures from Mustang Cultural Trekking

Your trip preparation:
This trek is considered as a non-technical trek and suitable for average people. If you are moderately fit and have a sense of adventure and culture you will enjoy this trek. The program is designed to acclimatize you gradually and not to experience high altitude sickness.
As the trek is designed for camping arrangement, everything is handled by our team of porters, sherpas and cooks who carry the equipment, set up the camp and have hot meals waiting for you at every food break.
Click here for optional Mustang Trek Itinerary
Trip Itinerary
Day 01: Arrival in Kathmandu, pick up from the airport and transfer to hotel, rest and refresh for couple of hour and complete the official formalities.
Day 02: Trip preparation and obtain permit for the trek and rest.
Day 03: Fly (35 min.) or drive by tourist bus (6-7 hr.) to Pokhara and transfer to hotel and free time for personal activities to explore its attractions of around.
Day 04: Fly to Jomsom (2700m), STOL flight over the World's deepest gorge in between Annapurna I (8091m) and Dhaulagiri (8167m) mountains, commence trek to Kagbeni (2,800m, 3 hr.) and O/N at tented camp.
Day 05: Trek to Chele (3060m, 5-6 hrs) -early morning after breakfast form Kagbeni ascend via little Chhorten with dusty and lusty path and many up and down along side of Kali Gandaki river bank. Afternoon arrive Tangbe village stop there for lunch and continue journey to Chele and O/N at tented camp.
Day 06: Trek to Geling (3570m, 6-7 hrs) -the trail goes along the several passes with wonderful views of mountain and colorful landscape mostly painted Chhortens, and water washed Maniwalls which are main attractions of around and after long day walking via alpine meadow land finally you will be at the Gelling ancient settlement place and O/N at tented camp.
Day 07: Trek to Tsarang (3560m, 6-7 hrs) - next morning again after breakfast commence continue your caravan journey via up and down hill trail first to Ghami village and after crossing the river climb up another couple of hour towards the beautiful Tsrang village. Visiting old Royal place and Tsarang Gompa are the main attractions of among and O/N at tented camp.
Day 08: Trek to Lo-Manthang (3840m, 3-4 hrs) – about half day excursion journey now you are at the final destination of upper Mustang. Its colorful cultural reflections of Bonism society, old monasteries and famous hidden kingdom palace are worth to visit for every trekkers and O/N at tented camp.
Day 09: Explore around Lo-Manthang- The first day of exploration journey around 600 years old ancient Lo-Mantgang town a unique experience for lifetime. The tall wall fences covering whole town in the past they did not allow to build any houses out side the wall frontier because of security and they believe evil sprite will give them trouble if they do that and even in present days during the festival and special occasion days according to Bonism lunar calendar the monks walk rounds the wall and blessing the whole town by stating their holy mantras. Visit and experience yourself all of around and take amazing photographs for the memory and O/N at tented camp.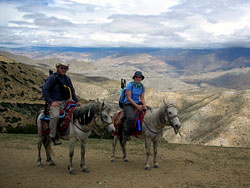 Day 10: Explore around Lo-Manthang- The second day of exploration journey after breakfast early in the morning by two hours walk go to explore eastern valley ,Nyphu and Gharphu Mustangi villages. On the way front can be seen the old dramatic cave village Chhosar and the red monastery of Nyphu set into the rock face. After continue ahead the trail passes a chhorten and rounds a bend opposite of Chosar village and the next settlement Gharphu ahead on the east side of the Mustang Khola you will be crossing the bridges to reach there and after visiting many wonders of around back to camp site and rest.
Day 11: Trek to Ghami (3520m, 5-6 hrs)-This is another opportunity to visit different villages on your returning days. The trail climbs steadily with a last glimpse of Lo-Manthang. It crosses a ridge way to Lo Ghar Monastery which is one of the oldest gompa in Nepal and is also older than the most popular Samye gompa of Tibet, after passing through Thamar villages, the steep trail finally reaches at Ghami village and O/N at tented camp.
Day 12: Trek to Samar (3540m, 5-6 hrs) via same route climb up to Nyi La ridge, on the way you will have again chance to view wonderful panorama of Annapurna range and giant Mt Dhaulagiri massif towards the southern direction as well as far western Himalayan ranges of Dolpo region and after the top descend to Samar village and O/N at tented camp.
Day 13: Trek to Kagbeni (2800m, 6-7 hrs)- The trail continue descends down crosses Chele village and gentle up hill up to Tangbe village after finally you will be at holy Kagbeni Village again and O/N at tented camp.
Day 14: Trek to Jomsom (2700m, 3 hrs)- Early in the morning after breakfast continue journey via same route of Kali Gandaki river bank to Jomsom up on arrival there have a lunch, rest to be refresh, later visit around and over night camp.
Day 15: Early in the morning transfer to airport fly to Pokhara transfer to hotel and end the trip. Next day again drive or fly back to Kathmandu for International Departure or join from Pokhara for further trips jungle safari, rafting or pilgrim tour to Lumbini etc.
For Cost details of above package,
Please contact us
.
Please note the following points:
- Restricted area entrance permits fee for Upper Mustang which cost US$ 500.00 per Person
- Annapurna conservation Area Project entrance permit fee cost in Nepali Rupee 2000.00 per person
- Domestic airfare (Jomsom-Pokhara) cost US$ 81.00 per person