Jungle Safari in Nepal:
Birdwatcher's Paradise destination "Koshi Tappu wildlife Reserve"
Nepal's most popular birdwatcher's paradise site and only one wild water buffalo "Arnas" habitat in nature is known as a Koshi Tappu Wildlife Reserve. The reserve spreads over Saptari and Sunsari eastern districts of East Nepal, defined by the eastern and western embankments of the Nepal's largest Koshi River System and protects a significant part of a tributary of the Ganges River of Indian Plate to the south. In the concept of conservation and protect biodiversity of the country Koshi Tappu Wildlife Reserve is established in 1976, covering an area of 175sq.kilometer as a natural wetlands habitat and came to know marshland reserve site since 1987.
The reserve has many beautiful oxbow lakes which provide natural habitat for the wild water buffaloes and different 439 species of migrated and endemic birds, some of which fly all the way from Siberia during the winter. Besides the reserve is also home for several endangered wild animals- rare Gongetic Dolphin, wild boar, many deers, nilgai (blue cow), crocodile leopard and wild cat etc. The vegetation of the reserve is mainly tall grassland with patches of scrub locally is known as thatches (khar) and pater and deciduous different mixed type of riverine forests.
For your bird watching holiday tour is accessible to organize by flight (45minute) from Kathmandu to Biratnagar city and from there 2:00 hour drive to the reserve site camp or by land journey(10-!2hour) from major touristic destinations- Kathmandu and Pokhara. Other best ideal way to visit there is combined with the scenic Sun Koshi rafting trip, at Chatara end the rafting and 1:30 hour transfer to the reserve camp.
Bird Watching Safari Tour
3 days/ 2 nights Bird watching Safari Tour Package in Koshi Tappu Wildlife Reserve
Day 01: Bird watching Activities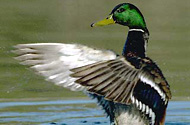 Arrival in Koshi Tappu wildlife Reserve, pick up from the bus stop/ airport and transfer to Safari lodge. Or directly transfer to the camp after ending the wonderful Sun Koshi river rafting trip. Enjoy your welcome drink in the beautiful beer garden and brief about the bird watching package program and serves your lunch and rest.
Afternoon relax by reading the bird watching books in the beautiful beer garden.
Late afternoon visit bird watching spot to see many beautiful birds together with amazing sunset view from the Koshi river bank and after sunset view back to the camp site, know about flora & fauna and other features of the wildlife reserve and serves your dinner.
Day 02: Bird watching Activities
Wake up call early in the morning and serve your tea/coffee drinks.
Transfer to morning bird watching spot on elephant back safari/jeep drive, explore their natural habitat, and know about many birds and after enjoying back to the Camp site for breakfast.
Afternoon go for the nature walk to see different wild lives of the reserve, coming back together an excursion visit to the local villages and typical cultural experience of Nepal's eastern plain land "Terai." where you can see mixed settlement of several ethnical groups together in one community.
Late afternoon back to camp site, relax in the beer garden/be refresh and enjoy your typical dinner party in the evening.
Day 03: Bird watching Activities
Wake up call early in the morning and serves your tea/coffee drinks.
Visit different sun rise view point and bird watching sport.
After exploring around come back to the camp to have a breakfast and pack the baggage to transfer to the airport for the departure.
Above Package Includes:
Full board jungle safari activities (necessary nature guide, accommodation and meals)
Transportation by land or flight as required (flight cost extra charge)
Necessary entrance fee for National Park
Transfer to Bus Park/ airport (both pick up and drop)
Above Package Excludes:
Meals on the way of journey
Airport departure tax.
Travel / medical insurance and emergency evacuation cost
Personal expenses such as- laundry, telephone calls, alcoholic beverages, bottled drinks (including cold drinks and mineral water), tips etc.
Nepal's famous National Parks for your wildlife adventure.